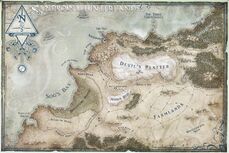 Het Tekenwoud is een relatief klein, ongevaarlijk bosgebied op minder dan een halfuur rijden van het stadje Zandhoek aan de Verloren Kust in Varisia. Het is gesitueerd aan de noordelijke oever van de Turandarok Rivier, ten noorden van de hooglanden die bekend staan als het Duivelsbord, en is minder dan twee mijl lang. Het wordt gescheiden van Scheens Woud in het noorden door de Verloren Kustweg. Ten westen liggen de Ravenroestheuvels, terwijl in het oosten Lebs Pieken oprijzen. Het Tekenwoud is erg populair bij lokale jagers, omdat het schijnbaar gevrijwaard is gebleven van de verder zo alomtegenwoordige goblinstammen, en omdat het vele herten en wilde zwijnen huisvest en er zelfs incidenteel vuurpelspoema's waargenomen worden.
Ad blocker interference detected!
Wikia is a free-to-use site that makes money from advertising. We have a modified experience for viewers using ad blockers

Wikia is not accessible if you've made further modifications. Remove the custom ad blocker rule(s) and the page will load as expected.