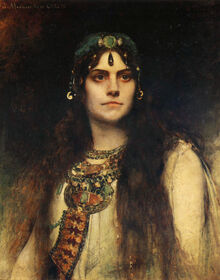 Salammbô Matho is een tovenares uit het noorden van Garund. Zij heeft een vleermuis genaamd Menotz als haar magische gezel, die zij zo veel mogelijk in een speciaal daarvoor gemaakt zakje op haar heup verstopt. Wat zij in Varisië doet en wat haar precieze achtergrond is, is een mysterie.
Ze is wantrouwend tegen bijna iedereen die ze ontmoet, maar lijkt langzaamaan wat meer op haar gemak bij de heldengroep
Ad blocker interference detected!
Wikia is a free-to-use site that makes money from advertising. We have a modified experience for viewers using ad blockers

Wikia is not accessible if you've made further modifications. Remove the custom ad blocker rule(s) and the page will load as expected.