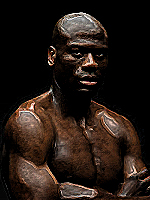 Ofuk'n is een donkere man afkomstig uit de Mwangi jungle. In lijn met zijn sterke geloof in de God Pharasma heeft Ofuk'n een vrij neutrale houding ten opzichte van gebeurtenissen in zijn leven. Hij heeft te kennen gegeven dat alles wat gebeurt een juiste verhouding is van leven en dood. Dit uit zich met name in zijn vaardigheden met een dolk enerzijds, maar ook zijn magische en niet magische helende krachten anderzijds. Hij heeft een hechte vriendschap met Kaddrion opgebouwd na gesprekken in De Roestige Draak (zie: Winkeliers, een Wrede Woordenwisseling en Warse Wanbetalers). Na een bijna fataal gevecht met een Gobelijn is Ofuk'n een flink deel van zijn linker oor verloren.
Ofuk'n is in het bezit van een ring waarop het volgende staat gegraveerd:
Deze ring heeft voor Ofuk'n een sterke connectie met zijn geloof in Pharasma, hoewel vooralsnog onduidelijk is waarom.
Ofuk'n is bang voor ondoden en alles wat daar mee te maken heeft.
Ofuk'n mediteert elke dag.
Ofuk'n heeft recent kennis opgedaan van kerkers in historie nadat hij een nacht heeft gespendeerd bij de oude Brodert Kwink.
Hoe Ofuk'n precies uit de Mwangi Jungle in Zandhoek terecht is gekomen is momenteel een mysterie.
Ofuk'n had schijnbaar ooit een tweelingbroer.
Ofuk'n geeft aan moeite te hebben met het onthouden van Common language.
Uitspraken
Edit
"Not to cry. Not to lament. Not to mock. But to understand."
"Emancipate yourselves from mental slavery."
"OH OH!"