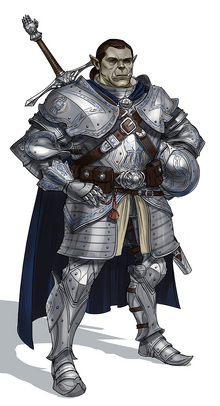 Greruk de Schone is een half-orc paladijn. Hij is afkomstig uit de Sintellanden, maar zijn precieze achtergrond is vooralsnog onduidelijk. De voornaamste drijfveer van Greruk is het dienen van 'het Licht' en het strijden tegen 'het Duister', een obsessie waar hij soms lichtelijk in doorschiet. Hij beweert hierdoor in de voetsporen te willen treden van ene Viktor Lichtstraal. Daarnaast heeft hij zichzelf uitgeroepen tot persoonlijke beschermheer van Salammbô, die hij bij tijd en wijle zijn 'Tamara' noemt. Salammbô zelf heeft Greruks bescherming uiteindelijk schoorvoetend geaccepteerd.
Nadat Greruk in vertrouwen werd genomen door het gezelschap besloot hij hen te helpen met hun queeste (in naam van het Licht uiteraard).
Ad blocker interference detected!
Wikia is a free-to-use site that makes money from advertising. We have a modified experience for viewers using ad blockers

Wikia is not accessible if you've made further modifications. Remove the custom ad blocker rule(s) and the page will load as expected.