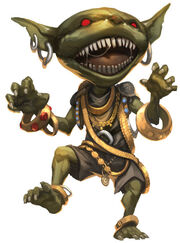 Gobelijnen zijn kleine rottige beesten die de wereld van Varisia bevolken. Ze staan niet bekend om hun herseninhoud. Hun leven staat in het eten van vechten en eten. Zo overvallen ze soms menselijke nederzettingen om te plunderen. Iedereen die hen daarbij tegen probeert te houden vallen ze aan. Toch is het voor doorgewinterde avonturiers geen grote opgave om een kleine horde gobelijnen neer te slaan.
Ad blocker interference detected!
Wikia is a free-to-use site that makes money from advertising. We have a modified experience for viewers using ad blockers

Wikia is not accessible if you've made further modifications. Remove the custom ad blocker rule(s) and the page will load as expected.