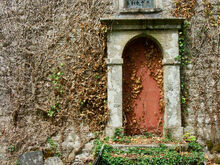 Een deur is een veelvoorkomende en zeer gevaarlijke opponent voor elke avonturier in Golarion. Vaak lijken deuren onschuldig, maar doorgaans is dat slechts een manier om nietsvermoedende slachtoffers te bedotten.
Onze helden hebben een deur verslagen in hun strijdtocht door de glasfabriek van de familie Kaijitsu in Zandhoek.
Ad blocker interference detected!
Wikia is a free-to-use site that makes money from advertising. We have a modified experience for viewers using ad blockers

Wikia is not accessible if you've made further modifications. Remove the custom ad blocker rule(s) and the page will load as expected.