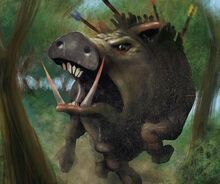 Aldus, Pantakhan en Horsa gingen op pad naar het Tekenwoud. Vossehand, gewapend met een dure fles wijn en een uitstekend gemoed, praatte hen de oren van de kop en vroeg hen 't hemd van het lijf. Hij lustte er wel pap van.
Pantakhan en Horsa wisten bij de jacht een wild zwijn buit te maken.
Ad blocker interference detected!
Wikia is a free-to-use site that makes money from advertising. We have a modified experience for viewers using ad blockers

Wikia is not accessible if you've made further modifications. Remove the custom ad blocker rule(s) and the page will load as expected.