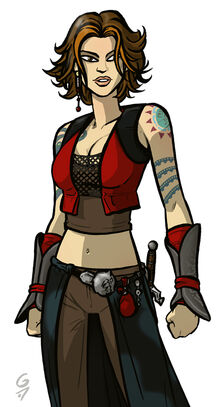 Ameiko Kaijitsu is een inwoner van Zandhoek, Varisië. Ze is de eigenaar van de Herberg De Roestige Draak, de populairste herberg in het dorp. Dit is een locatie met grote betekenis voor de Vrienden van Onord, aangezien het gezelschap hier enkele nachten doorbracht na hun aankomst in Zandhoek.
Ze maakt deel uit van de machtige Kaijitsu's, een familie met veel macht in het dorp. Haar vader is de oude Lonjiku Kaijitsu, eigenaar van de Kaijitsu Glasfabriek. Ze is ook de half-zus van Tsuto Kaijitsu. Haar jongere broer kwam in opspraak vanwege zijn twijfelachtige afkomst, maar ze is de enige die in contact is gebleven met hem.
Ze speelt een rol van betekenis in de verhalen van de Vrienden van Onord. Het is Ameiko die de avonturiers voorziet van eten, drinken en onderdak. Maar ook fungeert ze als vraagbaak over het stadje en haar inwoners voor de Vrienden, waarvan er een flink aantal van buiten de muren komen.
Ad blocker interference detected!
Wikia is a free-to-use site that makes money from advertising. We have a modified experience for viewers using ad blockers

Wikia is not accessible if you've made further modifications. Remove the custom ad blocker rule(s) and the page will load as expected.