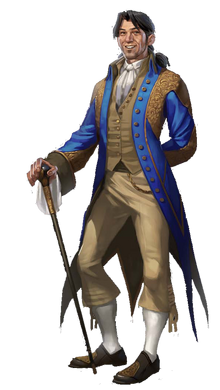 Aldert Vossehand is een nobelman woonachtig in Zandhoek, Varisië. Hij is van een gegoede familie die veel grond bezit in de streek rondom Zandhoek. Hij wordt gewoonlijk aangesproken als 'Vossehand', als een ware corporaal. Ten tijde van de avonturen van de Vrienden van Onord is hij een jonge man van rond de 30 jaar oud. Hij houdt van drinken en jagen, twee bezigheden waarvoor hij te pas en te onpas mensen uit zijn omgeving uitnodigt. De meeste Zandhoekers weten daarvoor wel op te passen, aangezien zijn gasten vaak voor zowel de rekening als het daadwerkelijke jagen opdraaien.
Er gaan geruchten onder de Zandhoekse bevolking dat Vossehand van de andere kant is. Dit gerucht wordt gevoed door het feit dat hij nog steeds niet getrouwd is, iets wat op zijn leeftijd en voor zijn stand ongebruikelijk is. Men heeft men vaak in beschonken staat dubbelzinnige opmerkingen horen maken naar mannelijke bezoekers van het stadje. Vooral exoten moeten het ontgelden.
Vossehand is echter geen man die iets kwaads in zijn zin heeft, eerder wordt hij gezien als een enigszins naïeve elitaire jongeman die zijn plaats in de wereld nog moet vinden.
Ad blocker interference detected!
Wikia is a free-to-use site that makes money from advertising. We have a modified experience for viewers using ad blockers

Wikia is not accessible if you've made further modifications. Remove the custom ad blocker rule(s) and the page will load as expected.